If you're looking for the best Down Home Country coupons, you're in the right place! The Down Home Country Show is one of the best ways to get your traditional country music fix. Along with a great cast of singers and musicians this show offers the classic sounds of George Jones, Dolly Parton, Merle Haggard, Hank Williams, Gene Watson and many more!

Exclusive Branson Saver Down Home Country Coupon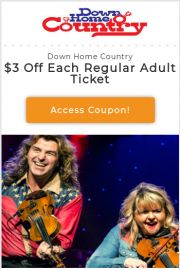 [dt_divider style="thick" /]
Featuring the top hits of Classic Country, Western Swing and Gospel music, Jamie Haage "Entertainer of the Year" and host of the show will guide you from songs to laughter and back again. Jamie is joined on stage by "Fiddle Player of the Year" Melody Hart and so many other wonderful pickers and players! Also joining them all is Branson's own funny man, "Comedian of the Year", Jarrett Dougherty! He will have you in tears and your sides will be hurting from all the laughter!
You are sure to enjoy the variety of dynamic singing, side-splitting comedy, amazing gospel, bringin-down-the-house bluegrass, and down-right fun! Down Home Country will be one of your favorite shows in Branson, because if you don't hear your favorite song, they take a few requests so you may just get it played after all! Put this show on your list!
Website : http://www.grandcountry.com/down-home-country
Directions :