Thanksgiving. It's the annual holiday that celebrates the harvest and blessings of the year. This 2020 season has been challenging for many individuals, small businesses, theaters, attractions right here in Branson, Missouri. However, there is always something to be thankful for. This holiday season, whether you're choosing to staying home with friends and family for the ultimate feast or choosing to going out, there's something for everyone to enjoy Thanksgiving Day in Branson.
Get exclusive savings and discounts when you use the Branson Saver App for local shows, attractions, dining, shopping and more from the convenience of your mobile device. Learn more about our money saving app today or download the app from the app store for free.
If you are dining out this year for Thanksgiving, here are our Top 6 Choices for The Best Places To Eat Thanksgiving Day in Branson:
Spend this Thanksgiving enjoying all the comforts of home at Cracker Barrel in Branson, MO. Guests can avoid all of the work and stress that often comes hand-in-hand with this popular American holiday by dining-in or by pre-ordering the Heat n' Serve feast. The Heat n' Serve Feast is perfect for large family and friend gatherings and can serve up to 8-10 people. The meal comes chilled and can be on your kitchen table in as little as 2 hours after cooking.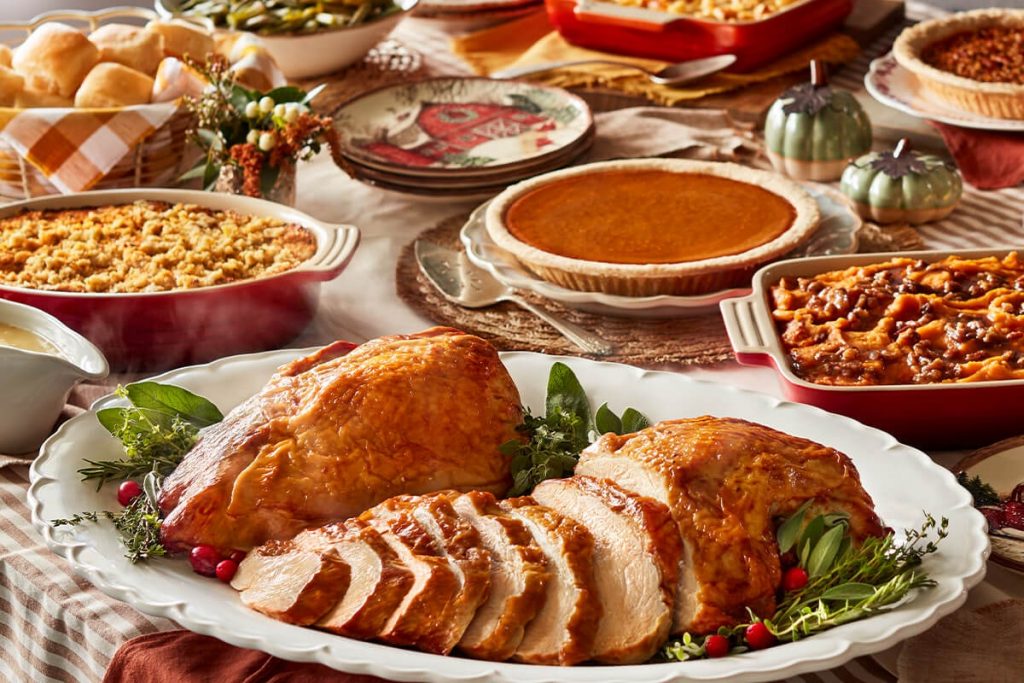 Photo Credit:https://www.crackerbarrel.com/catering/heat-n-serve/holiday-offerings/thanksgiving-heat-n%E2%80%99-serve-feast?productid=28494385
Holiday offerings from Cracker Barrel also include:
Family Dinner(serves 4-6 people)
Three Cheese Squash Casserole
Cranberry Relish
Pumpkin Pie
Chocolate Pecan Pie
Pecan Pie
Heat N' Serve Sweet Yeast Rolls
Apple Pecan Streusel Pie
Peach Tea (Half Gallon)
If you decide to dine-in, Cracker Barrel serves a full course Thanksgiving meal including traditional dishes like Oven-Roasted Turkey Breast, Sweet Yeast Rolls, Country Sides like the Sweet Potato Casserole or the Mashed Potatoes With Turkey Gravy, and Pie! The Thanksgiving menu is served all day on the 26th from 6 AM- 10PM. Reservations will not be taken so it will be on a first come, first serve basis.
Christmas at Dolly Parton's Stampede begins as early as October 29 and offers an all new spectacular show and delicious meal. Visitors and guests can go all out on Thanksgiving today and enjoy a show full of holiday cheer, music, costumes, stunning horse-riding stunts and lights. Lots and lots of while enjoying a four-course holiday dinner.
Fabulous Four-Course Feast Includes:
A Mouth-Watering Tender Whole Rotisserie Chicken
Delicious Hickory Smoked Barbecued Pork Loin
The Stampede's Original Creamy Vegetable Soup
Scrumptious Homemade Biscuit
Hot Buttered Corn on the Cob
Tasty Herb-basted Potato
The Stampede's very own Specialty Dessert
Unlimited Coca-Cola®, tea or coffee
**There are Vegetarian and Gluten Free options available.
Christmas performances generally run October-January with show times ranging between 10AM and 8 PM. There will be two show times Thanksgiving day at 5:30 PM and 8:00 PM.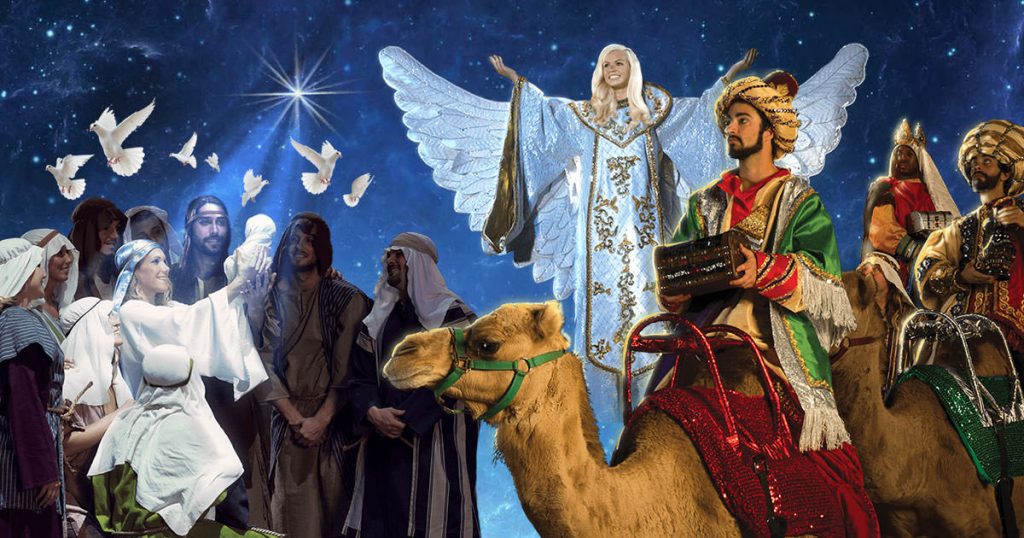 Photo Credit:https://dollyparton.com/dp-uploads/2017/11/DS-Tmas-Feature.jpg
Sadly, the annual Keeter Center Thanksgiving Brunch has been canceled for 2020. However, the Keeter Center will be offering packaged meals for family to pick up so all wonderful aspects of Thanksgiving comfort food made special from the Dobyn's Dining Room. The family package provides a plethora of delicious and tasty farm fresh dishes including Roasted Turkey Breast and Creamy Whipped Potatoes. Menu will include two options under the Harvest Table Package: 1.To Go Package and 2.To Go A La Cart. The Keeter Center will offer Curbside Service Thanksgiving Day, November 26th, with pickup times between 8:00 AM – 5:00 PM.
Some Sides to Choose From: Roasted Harvest Vegetable Medley, Bacon Pepper Jack Creamed Corn,  Green Beans with Roasted Onions and Cherry Tomatoes, Traditional Sage Dressing, Sweet Potatoes with Sorghum Glaze & Creamy Whipped Potatoes.
Entrees: Roasted Turkey Breast, Campus Smokehouse Hampshire Ham & Pan-Seared Snapper.
See the full menu here. 
**Due to limited availability, order and pickup time reservation must be made in advance and are offered on a first-order basis | Orders must be fully prepaid in advance | No promotions or discounts apply.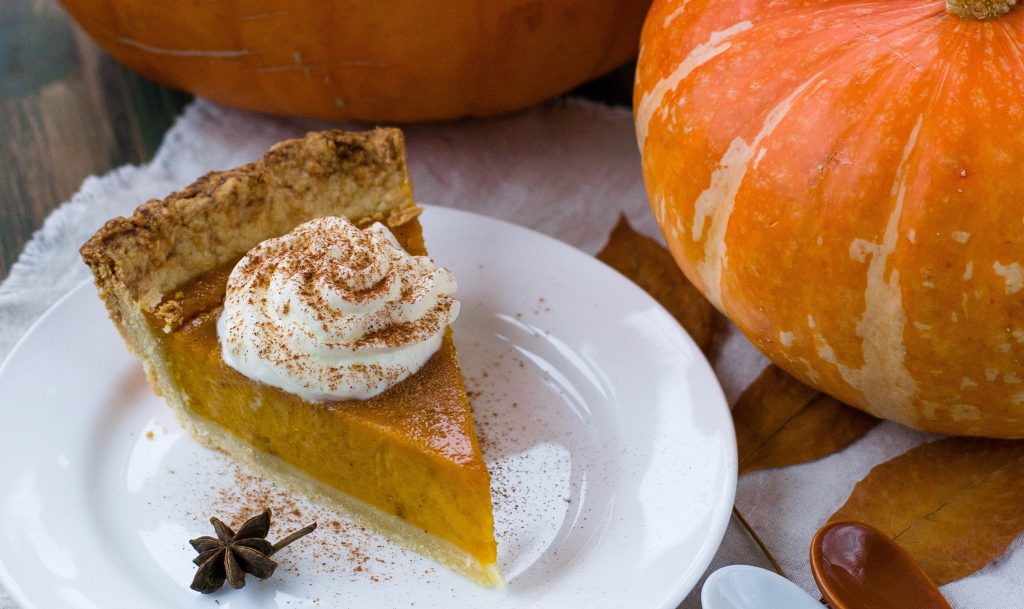 Photo Credit: pexels.com
Located on the beautiful resort of Big Cedar Lodge, the Devil's Pool Restaurant will be offering a full Thanksgiving meal Thursday November 26. The meal will offer a full range of items including turkey, side dishes like mash potatoes and gravy, as well as mouth watering dessert items! Food will be available 10 AM- 2 PM and reservations will be required. Also connected to Big Ceder, The Worman House will also be serving a Thanksgiving meal which will be served from 9:30 AM- 8 PM. Call 800-225-6343 to make your reservations today as slots are filling up fast!
Photo Credit:https://bigcedar.com/wp-content/uploads/2019/03/devils-pool-restaurant-interior.jpg
Top of the Rock will have one restaurant out of their total of three open on Thanksgiving day from 11 AM-9PM. Call 800-225-6343 for your reservations to Osage Restaurant. If restaurant is booked, reservations will check for openings at the Devil's Pool Restaurant and the Worman House.
Photo Credit:https://bigcedar.com/wp-content/uploads/2019/03/osage-restaurant-meeting-venue.jpg
Come aboard the Branson Belle for a true holiday treat with Christmas-themed entertainment, beautiful views over Table Rock Lake and a delicious 3-course meal on this fan-favorite Branson Attraction. The specialty Christmas Show Starts October 31st and ends December 23rd. Guests will see stunning dancing performances, hear first-class vocals, and experience the magic of the holidays and Christmas up close and personal in their intimate theater setting. Dinning options include General Seating Menu and the Captains Club Menu. Cruise times Thanksgiving Day are at 12:00 PM and 4:00 PM. Reservations required.
General Seating Menu includes:
Adults ( Age 12+) Wedge Salad w/ Vidalia Onion dressing and fresh seasonal vegetables, Hot Roll and Butter, Rotisserie Chicken Thights, Pot Roast with demi-glace, Fresh Green Beans, Garlic Mashed Potatoes, Ooey Gooey Butter Cake topped with Powdered Sugar, and Iced Tea & Coffee.
Children (Age 4-11) Chicken Nuggets, Macaroni & Cheese, Green Beans, Applesauce Cup, Ooey Gooey Butter Cake, 2% Milk or Juice.

Photo Credit:https://www.silverdollarcity.com/-/media/Images/HFE/SDC_COM/SBB/Hero/Tall/Shows/Christmas/ShowboatBransonBelle-Shows-2018-Christmas-Gallery-Newest-3-1366pxBy520px.jpg?h=520&iar=0&w=1366
Other Restaurants in Branson, MO Open for Thanksgiving
Big Whiskeys at Branson Landing, Billy Yates' Choices Concert Hall, Branson's Center Stage, Bob Evans, Buckingham's Restaurant, Charlie's Stead, Ribs & Ale, Denny's, Fall Creek Steak House, Flat Creek Bar & Grill, Florentina's Italian Ristorante, Golden Corral, Grand Country Buffet, Great American Chicken & Steakhouse, IHOP, Level 2 Steakhouse, Lone Star Steakhouse, Main Street Lake Cruises, McFarlain's Family Restaurant, Montanta Mikes Steakhouse, Outback Steak & Oyster Bar, Paradise Grill and Steakhouse, Paula Deen's Family Kitchen, Pasghettis, Plaza View at Grand Plaza, Point Royale Bar & Grill, Shepherd's Mill at Shepherd of the Hills, Shoney's, Shorty Smalls, Silver Dollar City.
Thanksgiving Tips, Tricks & Traditions For Those Staying Home for the Holidays: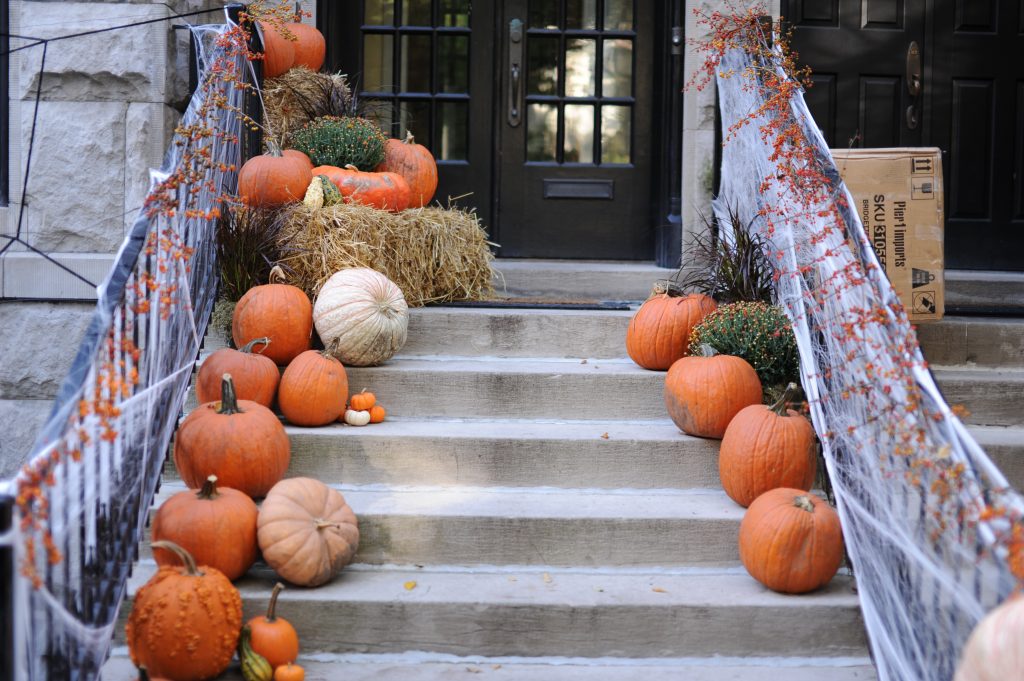 Personalize Your Decorating
It's fun to bring out the leaves, pumpkins and other fall-themed décor every year November arrives. Instead of always using store bought decorations, doing a handful of hand-crafted décor is just as fun and appealing. Cut out paper leaves, make your own fall basket with mini fake pumpkins, pine cones and leaves, hang up pictures of finger paint turkeys or other drawings/crafts the kiddos made.
Start with a Big Breakfast
Thanksgiving day is a wonderful holiday but often a stressful one. There are many unknowns of the day from start to finish of what you're going to cook, how much time is it going to take, when all of the food will be done…the list goes on. A great way to start such a hectic and busy day is to have a good, hearty breakfast. Serve some fruit, oatmeal, pancakes, bacon and sausage to sustain yourself and family until the often late Thanksgiving meal transpires.
Go on a Family Outing
Yes, there is an awful lot of waiting time if you and your family decided to cook Thanksgiving dinner at home. Family, friends and especially the kids can get antsy looking at that turkey in the oven all day so it's a great tip to do a short family outing Thanksgiving Day. Take a short walk around the neighborhood or at a close city park. If the weather permits, you can also have little games and activities
going on outside like tossing the ole pig skin,
Assign Tasks
Everyone can play their part in helping the Thanksgiving meal come to pass. Assign every member of your family a task you know they can handle whether it's light chores, pouring out the drinks, setting the table, entertaining the kids or stirring the mashed potatoes. Team work makes the dream work.
Photo Credit: Artie Siegel from Pexels
Prepare Food/Dishes Ahead of Time
Will your fridge and freezer be full? Yes. Will you be glad you prepared most of the dishes the night before Thanksgiving day. Most definitely. Food prep is a great way to stay organized and minimize stress when you have a million and one things to do the following day.
Play Games
No one will every complain of being bored while the food is being prepared. Not when there are board games to play, UNO games to win, drawings, coloring and crafts to be done. Have some activities and games ready to go and/or easily accessible so they can be put to good use when the time is right.
Watch Something Traditional
What counts as traditional? Really anything you, your family, or your friends grew up watching. Put on something nostalgic like It's The Great Pumpkin Charlie Brown or watch something on television like the Macy's Thanksgiving Parade or a football game.
Continue or Start a New Tradition
One great Thanksgiving tradition is acknowledging what you are thankful for. This can be done before the meal, during or after. Another favorite is having a table toast. Maybe even 2 or 3 table toasts. Volunteering is yet another unique holiday tradition and is a great way to pay tribute to a day about giving thanks as it does something for the local community and the people in it.
Try Store Bought Food
It can be canned, boxed or frozen food. Point is, if it tastes good and takes little to no prep work you won't be saying why as much as you'll be saying why not.
Enjoy & Be Thankful
It's easy to get caught up in the hussle and bussle of this holiday, but it's important to remember what the holiday is about. So, once everyone is settled down at the table, relax and enjoy this special holiday with those who are close to you.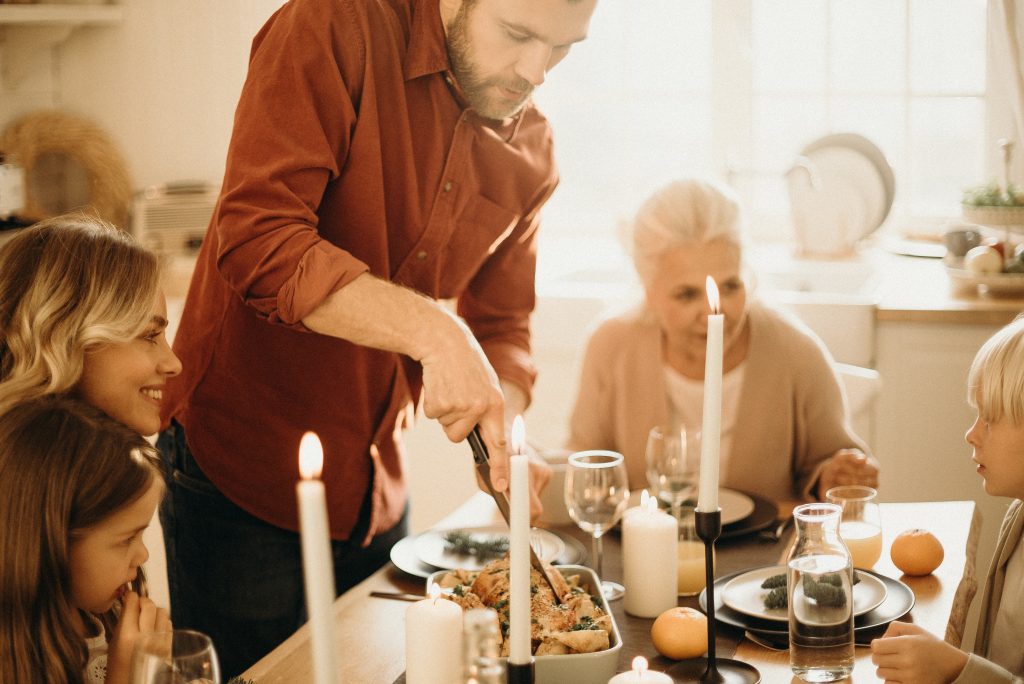 Photo Credit:cottonbro from Pexels
Need some inspiration of what Thanksgiving Dessert to make? See over 80 recipies for specialty desserts here.