Born from the idea of opening an attraction that was interactive, family-friendly, and appealing to a new generation, the Branson Pitch Axe offers the best of sports and recreation.
Chris Wainscott(General Manager) said the location of the new pitch axe attraction was ideal but needed a new spin.
" I pitched the idea about doing something that was more modern for a younger generation. The actual axe throwing is what they no call millennial bowling. So, back in the 70s and 80s when bowling was so big, that's the way axe throwing is now to the generation of 18-25 years of age."
In November, 2019, Branson Pitch Axe opened for the first time and has grown in popularity ever since. When guests first walk int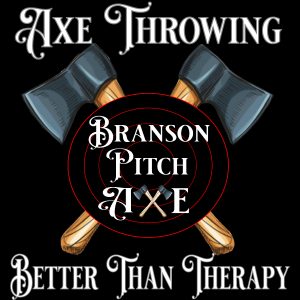 o the Pitch Axe building, Chris said "It's kind of an awe factor. It's very big on the inside, and there's so much to do there."
Guests will be treated to friendly and accommodating staff who will offer a 2-3 minute training session for new comers. Staff will be on site the whole time so guests feel comfortable and safe every step of the way. Besides discovering ones inner Viking while axe throwing, there are several other fun, interactive games to partake in.
Other Games Offered at Branson Pitch Axe:
Pool Tables
Corn hole
Shuffleboard
Ping Pong
Air Hockey
Jenga
Darts
Though guests must be 10 years of age and older to throw and axe, there's something for everyone of all ages to do when they visit the Branson Pitch Axe. As Chris stated during the interview:" I think Pitch Axe attracts people of all demographics. It's so different and it can be fun no matter what age you are. It's also not strenuous on anybody, so that's the good part."
During its short year of being open, Branson Pitch Axe has had one good guest review after another. To showcase a few, Terri Gardner left a review on the Branson Pitch Axe Facebook Reviews page saying: " We had a fantastic time! The employees were amazing and joined in on our laughter! We will be back again soon!" Another kind review from Meghan Stevens read:"REALLY fun place to go and have a great time! Fair priced, fun games other than just axe throwing, and the staff was AMAZING too. Would definitely come back and recommend to anyone coming to town to visit!"
What are you waiting for? Treat yourself to a therapy session like no other! Take up an axe to throw, enjoy a beer, and order some food from the Pitch Axe concession stand. As long as you're having fun, you're in the right place!
Location: 3224 W 76 Country Blvd, Branson, MO 65616. Right across from the Titanic museum.
Get exclusive discounts, deals and coupons at Branson Attractions, Shows, Dining, Shopping & more when you download the Branson Saver App on your mobile device! See how you can start saving here and read all about what are app can do for you and how easy it is to get started! See all of our Featured Coupons here.
Photo Credit: Branson Pitch Axe Facebook Page