If you're looking for the best Branson Big D's BBQ coupons, you're in the right place!
Without a doubt this is the best BBQ I have ever had. As I travel a lot, I've experienced the 'finest' areas, Texas, St. Louis, KC, Memphis. . .no one compares. The brisket, ribs, wings and chicken are mad good. Try the corn. I think I'm pretty good at smoking meats however I must bow to the master."
"Big D's has amazing BBQ choices. My favorite and servings are huge and delicious. Check them out!"

Exclusive Branson Saver 
Big D's BBQ
 Coupon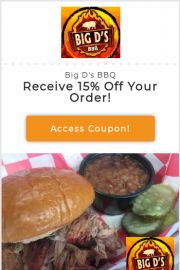 [dt_divider style="thick" /]
Specialties
"We are devoted to bringing real barbeque to the Branson area. We smoke our meats and side dishes from start to finish about the smoker. Our approach to low and slow combined with our own mix of dry rub spices create our barbecue and especially our Texas design angus brisket and Memphis style baby back ribs are a must have when you're interested in the best Branson barbecue."
A little History
Big D has been smoking meats for the past 20 years. However, it was recently he took the dive into the restaurant/food truck enterprise and made his passion his small business. Big D's sources his meat from O'le Hickory Farmers on a daily basis. He utilizes a proprietary blend of dry rubs and seasonings to extract the flavor of each particular meat. He's become known due to his Texas Style Angus Brisket.
Website : http://bestbransonbbq.com/
Hours:
 Mon – Fri: 11AM – 2PM, Closed Sat & Sun
Directions :