If you're looking for the best Branson's Famous Baldknobbers coupons, you're in the right place! Branson's Famous Baldknobbers , have been performing in Branson for over 50 years! The Branson family entertainment phenomenon began over 50 years ago in 1959 when the four Mabe brothers, known as the Branson Baldknobbers, began entertaining visitors on the Branson lakefront. Today, over fifty years later, the second and third generations of the Mabe family continue the family tradition of combining your favorite country classics, with hot-new country hits and hilarious comedy into a fast paced, high energy show.
The family legacy is still wowing audiences today, performing loads of comedy and musical talent including everything from today's number one hits to traditional country. By performing a new show each and every year, the Mabe family carries the tradition into its family's third generation. Whether you're a long time Baldknobbers fan, or a new one, you' re sure to enjoy the family traditions that have made the show popular for over 50 years. The name of the show has changed to Branson's Famous Baldknobbers, although the name has changed – the entertainment is still at its best!

Exclusive Branson Saver Branson's Famous Baldknobbers Coupon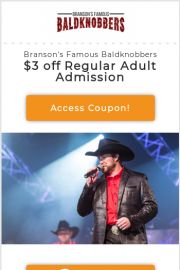 [dt_divider style="thick" /]
Hits of yesterday and today, and hilarious comedy hijinks are brought to you by the talented members of the Mabe family; Patty, Denton, and Brandon provide the vocals; Brent handles the bass and guitar; and the lovable Droopy Drawers, Jr. , also known as Tim Mabe, makes sure everyone keeps a big smile on their face! They have an excellent supporting cast of players, too, including long-time "Baldknobber" members Bob Leftridge, who warms up the audience with a delightful pre-show, and fiddle player extraordinaire, Mike Ito. After entertaining folks on the shores of downtown Branson's Lake Taneycomo in the 50's, the "Baldknobbers" relocated to Branson's famous Strip in the early 60's, and has now moved to the beautiful Branson Famous Theatre, where generations of the Mabe family still keep packing 'em in!
Website : http://baldknobbers.com/
Directions :