If you're looking for the best Roundup On the Trail Chuckwagon Dinner coupons, you're in the right place! Featuring the best musicians in Branson, with years of experience with artists such as Mel Tillis, Roy Clark, Ray Price, Tony Orlando, Bob Hope, Larry Gatlin, Andy Williams, Ricky Skaggs, Kenny Chesney, and countless major studio projects, New Trails can play it all, with a wide variety of musical styles, harmonies, instrumentations, and range, from the Old West to Western Swing, and from the Old Country to New Country.  And if you feel like jumping up and dancing about, that's fine by them! There's sure to be some musical surprises along the way, and they'll always take a trip down the gospel trails.

Exclusive Branson Saver Roundup On the Trail Chuckwagon Dinner Coupon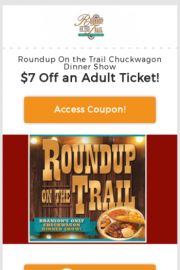 [dt_divider style="thick" /]
Laugh like never before, as you come right inside the bunkhouse, and join a bunch of cowboys as they tell hilarious stories and cowboy poems, as well as zany antics that could only happen on the trail! Celebrating the authentic roots of the great American Cowboy in song and verse.
Prepared on an authentic Chuckwagon, just like those that went up the great cattle trails of the 1800's.
This dinner is hand-prepared and cooked over an open fire:
Slow-Smoked Texas Brisket
Maple-Smoked Turkey Breast
Dutch Oven Trail Taters
Fire Roasted Ear of Corn
Campfire Beans
Cookie's Hot Rolls
Hot Dutch Oven Cobbler
Website : http://rounduponthetrail.com/
Directions :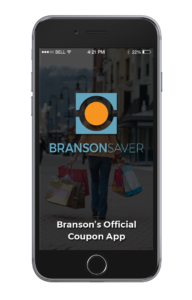 [/vc_column_text][/vc_column][/vc_row]