If you're looking for the best Reza Edge of Illusion coupons, you're in the right place! Reza is one of today's most sought-after entertainers in the illusion industry! He has performed worldwide and delivers innovative, engaging and spectacular performances!
Reza's recent tour and television appearances have astounded over 20 million viewers from across the World on networks such as MTV, A&E, The CW, PBS, Reelz, CX, Fuji, and Telemundo as well as live venues including the Alamodome (San Antonio), Philips Arena (Atlanta), Villanova Pavilion (Philadelphia), and Mundo Imperial Forum (Acapulco), to name a few. Additionally, Reza just completed a 100 show residency at The Starlite Theatre in Branson, MO with his new show "Edge of Illusion," a ground-breaking grand scale production which Reza simultaneously designed to connect with the audience on a personal level. "Edge of Illusion" earned Reza high acclaim and as well as being voted "2016 Magician of the Year."


Exclusive Branson Saver Reza Edge of Illusion Coupon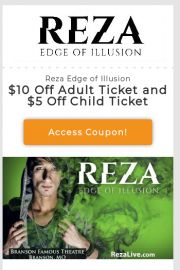 [dt_divider style="thick" /]
Reza began performing magic and illusions at the ripe age of 7 when his focus on the art was inspired by a magic show he saw in his hometown of Brookings, South Dakota. By 14, Reza wa performing for resorts and large corporations across the midwest. Today Reza is one of the fastest rising stars in the industry and has his mind set on changing the world's perception of magic! Reza is captivating, engaging, and intriguing, and has the ability to connect with his audiences and let them feel his magic on a personal level. Reza is not just a magician, he is an entertainer! See Reza live at Branson's Famous Theatre!
Website : http://www.rezalive.com/
Directions :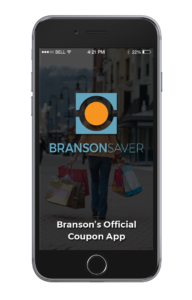 [/vc_column_text][/vc_column][/vc_row]