If you're looking for the best Comedy Jamboree coupons, you're in the right place! The Comedy Jamboree begins with laughter and provides a family friendly show that everyone in the family can enjoy! Comedians, Harley Worthit, Applejack, and Stretch McCord are 3 uniquely funny guys that will have you grinning ear to ear and rolling in the aisles laughing as they tell you hilarious stories and good clean jokes that the kids go go home and tell their friends.

Exclusive Branson Saver Comedy Jamboree Coupon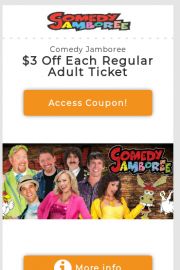 [dt_divider style="thick" /]
You can't have a Branson show without a great band… The Comedy Jamboree band consists of 5 members and are some of the best players in Branson!
Tracy Heaston – Piano
Chad Cathell – Acoustic and lead guitar
Wayne Massengale – Acoustic guitar and fiddle
Larry Allred – Bass guitar
Rob Blackburn – Drums
In addition to the great comedy acts and skits there is an amazing lineup of singers, dancers and other talent that make the Comedy Jamboree a must see show while in town! See Matt Snow, GiGi Hutchison and Tiffany Sassanella join together to bring you some of the best singing and dancing you will see on one stage!
Website : http://www.grandcountry.com/comedy-jamboree
Directions :