If you're looking for the best White River Kayaking and Outdoors coupons, you're in the right place! White River Kayaking and Outdoors offer kayak, canoe, paddle board, bike and scoot coupe rentals in Branson/Hollister Mo. Their location provides quick and easy access to beautiful Lake Taneycomo. It is also ideal for biking or riding a scoot coupon in Branson.  Go see what kind of path you may want to discover.

Exclusive Branson Saver White River Kayaking and Outdoors Coupon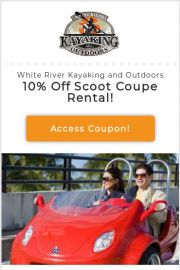 [dt_divider style="thick" /]
Whether you're a beginner or an expert, White River lakes make the perfect setting for fishing, kayaking, paddle boarding and canoeing.  It is possible to see an assortment of wildlife or maybe you would like to try catching a variety of fish. There are plenty of adventures to be had in Ozark Mountain country.
Website : http://www.whiteriverkayaking.com/
Hours : March 1st-September 15th we welcome walk ins and reservations. Sept 15th-March 1st open for reservations only. (reservations at least a day ahead of time)
Peak Season Hours:

Sunday-Thursday 9am-5pm
Friday-Saturday 9am-7pm
last put in time is 5pm.
We will put in as early as 6:30 am with a confirmed reservation.
Directions :