If you're looking for the best Mike Walker Lasting Impressions coupons, you're in the right place! Mike Walker has been called one of the finest impressionists and impersonators in the world! In this tribute show, Mike has put together some of the greatest personalities of all time for a spectacular tribute show! Mike Walker Lasting Impressions, showcases Mikes talent in this amazing tribute. Let him amaze you!

Exclusive Branson Saver Mike Walker Lasting Impressions Coupon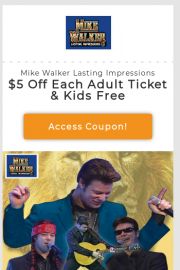 [dt_divider style="thick" /]
Mr. Walker has mastered the sound and personality of so many big name stars, I am not sure how he does it! Perfectly recreating their mannerisms and sounding just like the singers that it is hard to believe the singing is coming from him!
You will hear artists and bands such as: Journey, Aaron Tippin, Dr. Hook, Mickey Gilley, Alabama, Michael Jackson, Ray charles, Willie Nelson and so many more! Close your eyes and you will be in disbelief as you hear the voices of these famous singers coming from the mouth of Mike Walker!
This unique show is worth seeing while you are in town!
Website : https://www.mikewalkermth.com/
Hours : Tuesdays & Thursdays 2PM shows (see schedule)
Directions :