If you're looking for the best Don't 4 Get About Me coupons, you're in the right place! The Don't 4 Get About Me product line offers grab and go supplies and natural, made in the USA dog treats. All different sizes, textures and flavors are available for your four legged furry friends!
Grab a mason jar and fill it up with your dog's favorite snacks! From bully sticks and antlers and everything in between, find all kinds of great goodies! They have also partnered with some other local treat companies so they also offer treats for fish, birds and other small animals!
Does your dog destroy everything? They have a section of durable toys for your big chewy babies…although no toy is indestructible, these toys are able to stand up a bit longer than some of the smaller toys. They also have those toys, for your smaller lap dogs and pups that just like to squeak, lol. You will find a great selection no matter what kind of toy you me be looking for!


Exclusive Branson Saver Don't 4 Get About Me Coupon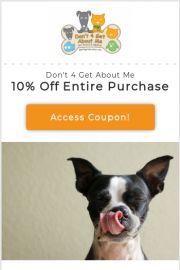 [dt_divider style="thick" /]
They also have coats for the winter and life jackets in the summer. Pick out the perfect leash, collar, or harness for any occasion.
Of course we can't forget our feline friends! Wands, collars, catnip, feather toys, and treats made in the USA are just a few of the things that your cat will love.
Dogs and cats need spa days too! Choose from thier selection of grooming supplies, pet odor eliminating candles, and dental products to keep your pets looking their best!
Don't forget the pet lovers and pet sitters in your life! They have a section that includes unique pet themed gifts, featuring Life is Good clothing and accessories.
Whatever your pet needs, you can find it at Don't 4 Get About Me!
Website : http://www.dont4getaboutme.com/
Hours : Mon thru Sun: 10am-7pm
Directions :