If you're looking for the best Curling Vine Winery coupons, you're in the right place! Taste the Fun in Branson at Curling Vine Winery! They have Free tours and are family friendly! You can see unique bottling demonstrations and a Moonshine Still display! Yes, they even have tasting too, they even have juices for the kids to taste!

Exclusive Branson Saver Curling Vine Winery Coupon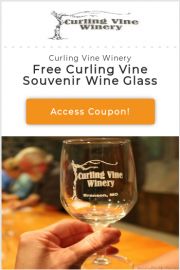 [dt_divider style="thick" /]
Here is what people are saying about Curling Vine Winery:
Always liked this place, a great tour! This is one of my favorite wine tastings/tours! The employees are knowledgable, fun and they have a lot to show you! We learned a lot and got to try a great selection of wines. Emiline-LA January 2018
Learned alot and had fun! We have never been on a tour of a winery until we went here. It was very imformative. We learned alot about wines and had questions answered that we had. The wine tasting part exceeded our expectations!! Wow!! Great place to visit. The tour last about 45 minutes. Lori-MO January 2018
Pleasantly Surprised! It was a fun, short little tour. Our tour guide, Doug, was knowledgeable and fun. My wife and I prefer dry over sweet wines and this winery has a pretty good selection of dry or semi-dry wines. They were very open to letting us try all the dry wines instead of just 3 or 4, and we appreciate them doing so. Because of their flexibility we wound up buying more wine than we normally would, and we are looking forward to drinking it when we return home. K-MO December 2017
Go see the wine experts at Curling Vine Winery when you're in Branson!
Website : http://www.curlingvinewinery.com/
Hours : Monday-Thursday 9am-5:30pm Friday & Saturday 9am-6pm Sunday 10am-6pm
Directions :