If you're looking for the best Branson's Wild World coupons, you're in the right place! The area's most unique animal attraction, Branson's Wild World and aquarium presents an up-close encounter with some of the world's most beautiful, exotic, deadly, and intriguing animals.

Throughout your journey through this wild world, you will meet a variety of animals of the land, sea, and air for an experience you won't ever forget. It features many things you won't find anywhere else including:
Touch Tanks – where you can actually touch marine life
Creepy Crawlers – see bugs, spiders, and other insects
Carnivorous Plants – view these meat-eating plants that you may have never before seen
Venomous Snakes – see deadly snakes from the region like copperheads and cottonmouths as well as the exotic ones like Black Mambas and King Cobras!
Freshwater Displays – watch freshwater fish in their natural habitat
Reptile Display – interact with lizards, snakes, and more
The Reef – exotic sea creatures from lobsters to adorable clown fish
Doctor Fish Experience – a one-of-a-kind experience where you can place your hands in a tank and the tiny fish nibble on your hands and fingers
Shark Tank – yes, actual sharks and one of only two locations in the country to display the bull shark (you can even feed them if you'd like!) and nurse sharks can also be viewed
Crocodile & Alligator Enclosure – look through the glass at these fierce-looking reptiles
Sea Turtle Tank – the only sea turtle on display in the Midwest
Stingray Tank – watch these graceful creatures and feed them if you desire
Wolf Woods – see this special enclosure that features the region's only indoor wolf display

Many of the animals on display can actually be fed while you are visiting and include: bull sharks, koi fish, lizards, stingrays, turtles, and many more!

Exclusive Branson Saver Branson's Wild World Coupon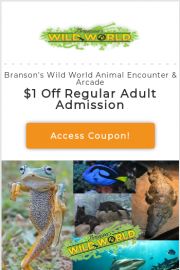 [dt_divider style="thick" /]
Branson's Wild World also has a Roller Coaster Simulator!
The ultimate thrill-seeker's experience, watch 3D movies and score points by shooting characters on the screen!
Pirate Mini Golf!
Not your typical blacklight mini golf course, this one features a 3D feature that is unlike anything you have ever experienced! Putt your way through 9 holes and around the various animals you'll encounter in your play.
Free Jungle Arcade!
A variety of games are available for you to play, from pool to video arcade games – bring the kids for some indoor fun!
Website : http://bransonswildworld.com/
Hours : open 10-6 March- December
Directions :