In the heart of Branson, Missouri lies the busiest and most famous road in Taney County—West 76 Country Boulevard, better known as The Strip. It is on this well-known road that new and returning visitors get a front row seat to all the city has to offer including the amazing variety of Branson, Missouri attractions.
Venture through our list of the most popular and well-loved Branson,Missouri attractions.
Here we go!
Branson, Missouri Attractions
Get your kicks at a theme park unlike any other—Silver Dollar City. Settled in the heart of the Ozarks, this park styled after the1880s has entertained, thrilled, and captivated guests from all over the world again and again. The park includes thrilling roller coasters, live entertainment & concerts, mention-worthy restaurants, gift shops, hundreds of resident craftsmen displaying heritage crafts like blacksmithing and glass blowing, Silver Dollar City will be fun for the whole family! Don't forget to tour Missouri's deepest Marvel Cave, located right under certain areas of the park!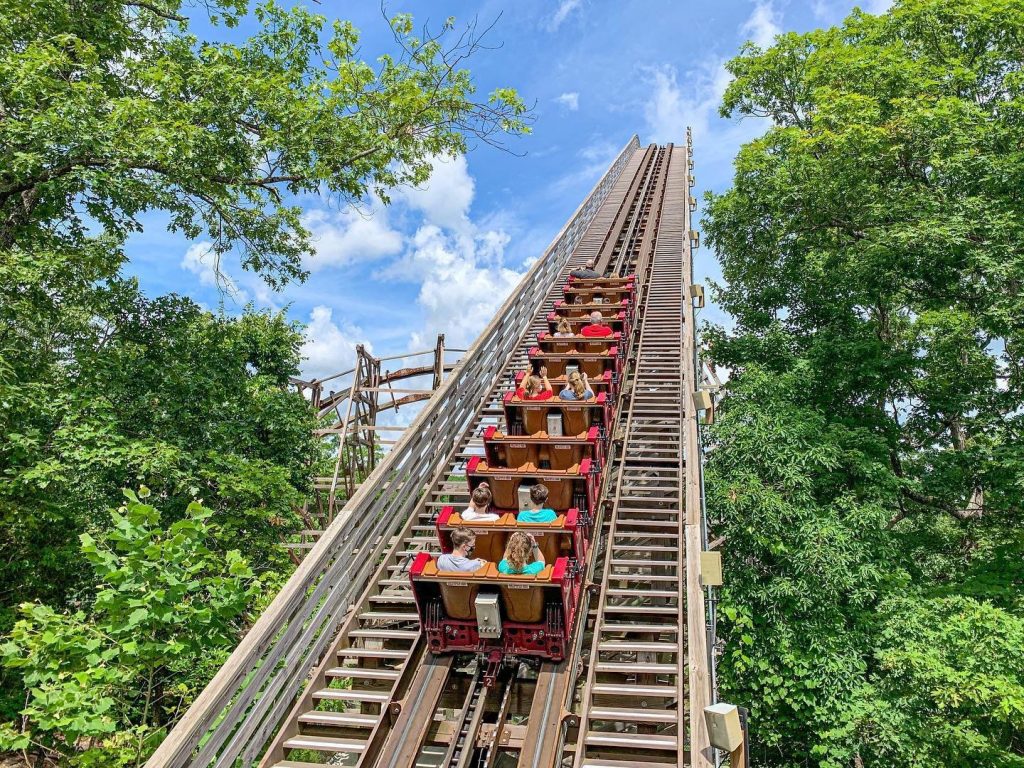 PhotoCredit:https://d3qvqlc701gzhm.cloudfront.net/full/84494612dde90e961fbc69d07495bf578c1f0ebdb156f43f28c6a143d3c2e35f.jpg
Come see why this family fun destination has over 500 5-Star reviews on Trip Advisor! Located just off The Strip(Hwy 76), Adventure Ziplines of Branson will be sure to get your heart going when you climb a 70ft tour; and you haven't even jumped off yet!
Overcome your fears or feed your dare devil spirit as you strap in and get ready to take a leap of faith. Professional guides will be by your side to ensure the upmost safety as you get ready to fly through the air at speeds well up to 50 mph! Feel like a superhero as you whiz over the tops of trees with a nice clear view over the Ozarks. It's Branson, Missouri attractions like these that keep visitors and locals alike laughing, having a good time, and coming back for more!
Adventure Ziplines of Branson also has:
 7 ziplines and 3 rope bridges on property
Zipline at Night Tours
*There are age, weight and footwear requirements!
Figure 1Photo Credit:https://www.adventureziplinesofbranson.com/wp-content/uploads/sites/3/2019/05/2743cca7-intro_image_1x.jpg
Move up, down, in and out on Branson's longest coaster. Move through the natural features of the land as your cart is pulled uphill for 5 minutes. When you reach the crest of the hill, your ride is all up to you! Use the patented brakes for a more easy breezy ride or let gravity do its thing to enjoy a ride that can go up to 30 mph! You can even push the brakes forward to give the cart more speed!
Take a passenger with you or ride alone on this coaster that lets you experience the beauty of your surroundings and the thrill of the ride. Get a second ride for a discounted price or ride at night with a lit up track! Another one of the great Branson, Missouri attractions you have to try!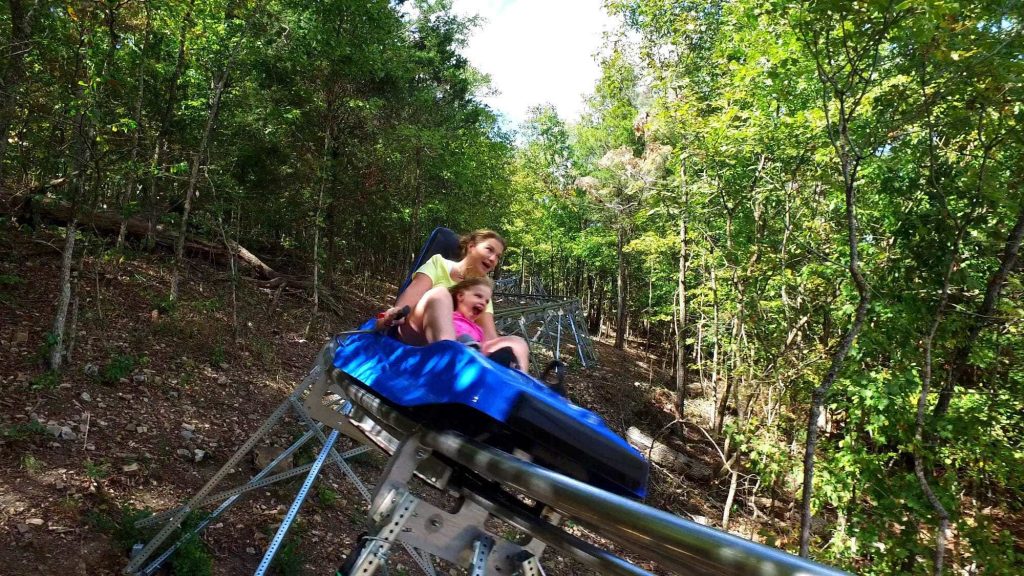 Photo Credit:https://i2.wp.com/bransonalpinemountaincoaster.com/wp-content/uploads/2016/03/Excited-Mom-and-Kid-2.jpg?w=2000&ssl=1
Walk through the doors of the Titanic Museum and feel like a passenger aboard the famous watercraft as each guest receives a boarding pass with the name of an actual passenger or crew member aboard the Titanic along with the class they traveled under.
Walk through hallways, cabins, and descend & ascend the widely recognized Grand Staircase constructed from the original Harland & Wolff plans. See over 400 artifacts, touch an iceberg, stick your hand in 28-degree water and walk through the Titanic Memorial Room to see if your passenger survived.
Get a feel of what happened that faithful night as you discover never seen before artifacts, sit in a life size replica of a lifeboat and see the different slopes of the deck's as the ship descended into the icy depths of the ocean.
The museum tour is self-guided.
Photo Credit:https://titanicbranson.com/wp-content/uploads/2015/01/about-titanic01.jpg
Enjoy a day or night out at the Track Family Fun Park located off 76. Family, kids, groups and couples can jump right in and enjoy go-cart rides, bumper cars, indoor laser tag and the 100-foot-tall Skycoaster!
The Track Family Fun Park also entails:
3 high-rise go-kart tracks( including Heavy Metal High Rise and 2 wooden tracks, Wild Woody and The LumberJack)
Bumper boats
Bumper cars
Kids' rides
Skyscraper
Mini golf
Arcades
Batting cages
6.Golfing
Known for catering to golf skill levels of every kind, Thousand Hills Resort maintains their high rating for their location, their layout and their challenging, yet enjoyable courses. Reserve your tee time and see why Thousand Hills was voted "Best of the Ozarks"!
Golf course amenities:
Open to the Public
Complete Pro Shop
Golf Club Rentals
Golf Professional on Staff
Rental Clubs Available
Mulligan's Snack Bar & Grill Open April – November
Golf Clubhouse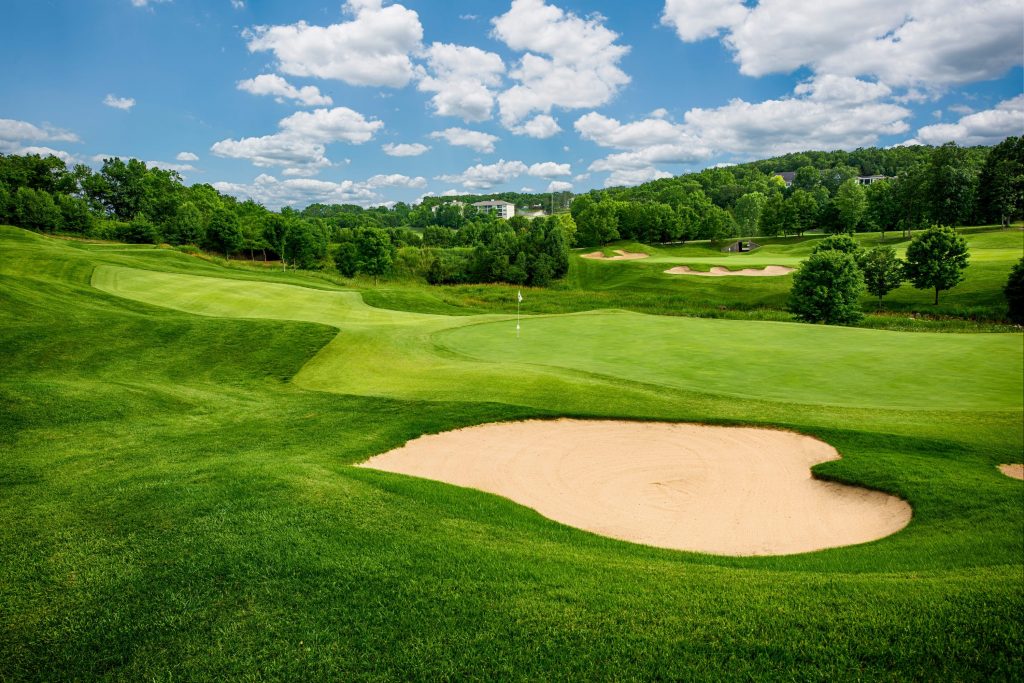 Photo Credit:https://www.thousandhills.com/branson-golf/
Branson Hills Golf Club includes a scenic course complete with waterfalls, wooded regions and rock ledges for the nature lovers and golf gurus at heart. The course was designed by Chuck Smith with consultation for design by PGA Professional, Bobby Clampett. The entirety of the course is a tribute to honor all Legendary Missouri Golfers. People can do weddings and special events here as well as enjoy clubhouse amenities including their public sports bar and grille, the MAGNOLIA GRILLE!
Photo Credit:https://dev.bransonsaver.com/branson-attraction-coupons-2/
7.Mini-Golf
Yet another selection from the long list of Branson, Missouri attractions is–drum roll please–mini-golf!
With both indoor and outdoor courses, Branson presents scores of mini-golf courses throughout the city, each including elaborate themes, fun courses, larger than life props and even waterfalls!
Whether it's a traditional mini-golf course or more of a modern themed course with glow-in-the-dark, you can find it to suit your putt-putt needs!
List of Mini-Golf Courses in Branson, MO:
Indoor Mini Golf, Pirate's Cove Adventure Golf, Shoot for the Stars Mini-Golf, Brookside Miniature Golf, Dinosaur Canyon, Greatest Adventures Mini-Golf, Lost Treasure Golf, Grand Country Fun Spot, Bigfoot Fun Park, Corral Reef Mini-Golf, Back to the 50s Mini Golf.
Photo Credit:https://www.piratescove.net/media/uploads/locationpage-slides/orlando/16-i-drive2.jpg
Experience a powerful, awe inspiring, humbling, and emotional tour of the Veteran's Memorial Museum in Branson, Missouri. This natural tribute museum honors the men and women who defended the freedom of this country properly as you read personalized scripts and stories for each display.
See a list of over 400,00 names of the men and women killed in action during WWII and the walls of each great hall contain the names of those killed in action during Korea, Vietnam, Desert Storm and other 20th century conflicts.
Place yourself in the shoes of the brave men and women who sacrificed so much as you observe and soak in the artistic and thought-provoking memorials and displays of The Veterans Memorial Museum including exhibits with detailed & accurate information, letters to home, statues, planes and many other significant pieces of history.
Photo Credit:https://scontent-dfw5-2.xx.fbcdn.net/v/t1.0-9/s960x960/76640107_2760046170890779_8469062925116506112_o.jpg?_nc_cat=108&_nc_sid=dd9801&_nc_oc=AQmcjrKY-r07NQRzcl_91oaQC81VpiPyWKsbYRrVu9LFPsdzQIc4vIb8nX_dXO4r9YI&_nc_ht=scontent-dfw5-2.xx&_nc_tp
Get sky borne when you book a tour with Chopper Charter in Branson! The tour can fly up to 6 passengers with their turbine powered engines so you can go with the whole crew! Fly high above Silver Dollar City, the Chateau on the Lake, Branson's 76 Strip, the Ferris Wheel and much, much more! Choose from a variety of helicopter tours to make you visit to Branson all the more memorable.
Other tours:Dinner Flights, iPilot, Light Tour(during the holidays), Preview, Trailer, Matinee, Main Feature and Encore.
Photo Credit:https://www.choppercharter.com/gallery
Explore a museum for the kids and kids at heart as you go through the World's Largest Toy Museum in Branson, Missouri with over 1 million toys in stock, 6 museums, fun interactive areas, and a gift shop.
This complex has museums back to back on the interior including the Harold Bell Wright Museum, National BB Gun Museum, Stearnsy Bear Museum, World of Checkers Museum and the Paul Harvey Jr. Museum.
If the kiddos are getting antsy, there are interactive areas like the Hot Wheels Tracks and the Lincoln Logs section.
Of course it wouldn't be a toy museum without the toys! Find knick-knacks of every sort from modern day all the way back to the 19th century on display. Even check out the toy gift shop on your way out!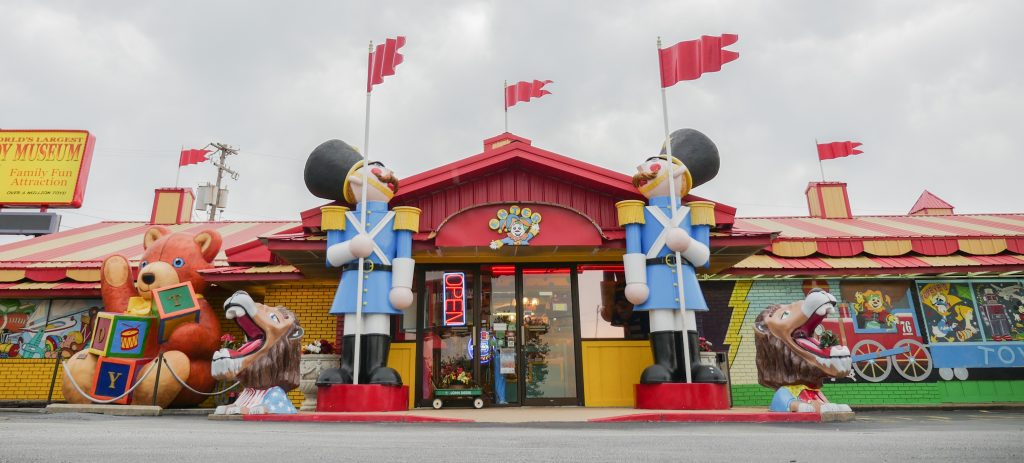 Photo Credit:https://worldslargesttoymuseum.com/wp-content/uploads/2017/05/Toy-Museum-Front.jpg
Satisfy your need for speed at the Xtreme Racing Center with one of the longest high-speed concrete racetracks in North America! Tokoyo drift over 3,500 feet of raceway over their Xtreme Track with state-of-the-art race karts. Head over to the Xtreme Track for the older adults or the Junior Track for kids who are at least 48" tall and 7 years old. Xtreme Racing Center is open till midnight to race at night!
Xtreme Racing Karts
Xtreme Kart: Height Adjustable, LED Frontlight, Fastest Karts in Branson, Precision Handling, Engineered for Safety, Sodi RT-8
Pro Kart: LED Frontlight, Height Adjustable, Engineered for Safety, Low Center Gravity, Sodi GT-5, Honda GX 270cc.
Photo Credit: Xtreme Racing Center of Branson Facebook Cover Photo
Encounter the cutest furry and feathery creatures around like sloths, owls, lemures and more! For Basic Admission, see the home of hundreds of rare and endangered species. Even see the animals fed up-close! Indoors or outdoors, this is a zoo you'll want to see.
Other tours available:
Branson VIP Adventure, Branson Basic Admission, Branson Ultimate Excursions, Branson VIP + Animal Adventure
Photo Credit:https://dev.bransonsaver.com/wp-content/uploads/branson-promised-land-zoo.jpg
Take up to 4 people on this entertaining ATV ride at Ozarks Offroad ATV Adventures! Learn how to operate the ATV/UTV's before hitting pavement and then off-road. Hit the dirt and head deep into Shepherd of the Hills trails for a ride of a lifetime!
A few things to know beforehand:
Trail rides led by Shepherd of the Hills staff
The ATV adventure lasts approximately 1-1.5 hours depending upon your ticket
Must be 4+ to ride and 21+ to operate the vehicles
Both Cameras and Video Cameras are Allowed
Photo Credit:https://theshepherdofthehills.com/atv-adventure/
Get your pick of cruise and dining options, water equipment rentals, dining options and many other unique attractions. Located just minutes away from historic downtown at the end of the Branson Landing, enjoy the views of scenic Lake Taneycomo and several options for a good time on land or by water. Book reservations online for high demand and limited availability! Book a cruise, rent watercraft, or host reunions and/or events with Main Street Marina today!
Rentals:
Craigcat(2 seater boats)
Double/Single Kayaks
Hydro Bikes
Standup Paddle Boards

Photo Credit:https://mainstreetmarina.com/photos/
Get your hands and feet moving climbing, jumping, and running over 80,000 square feet of fun, adventure in the biggest indoor play park, Fritz Adventure! Tackle the multi-story ropes course, go down slides,climb up warped walls, maneuver through their laser rooms, explore underground tunnels, discover huge tree houses, and learn how to fly at their new outdoor additive: Aerodium.
Fritz Adventure welcomes large parties of all kinds. They even feature a restaurant with healthy menu items with a nice view over the indoor park! Great for special occasions, school outings, and reunions!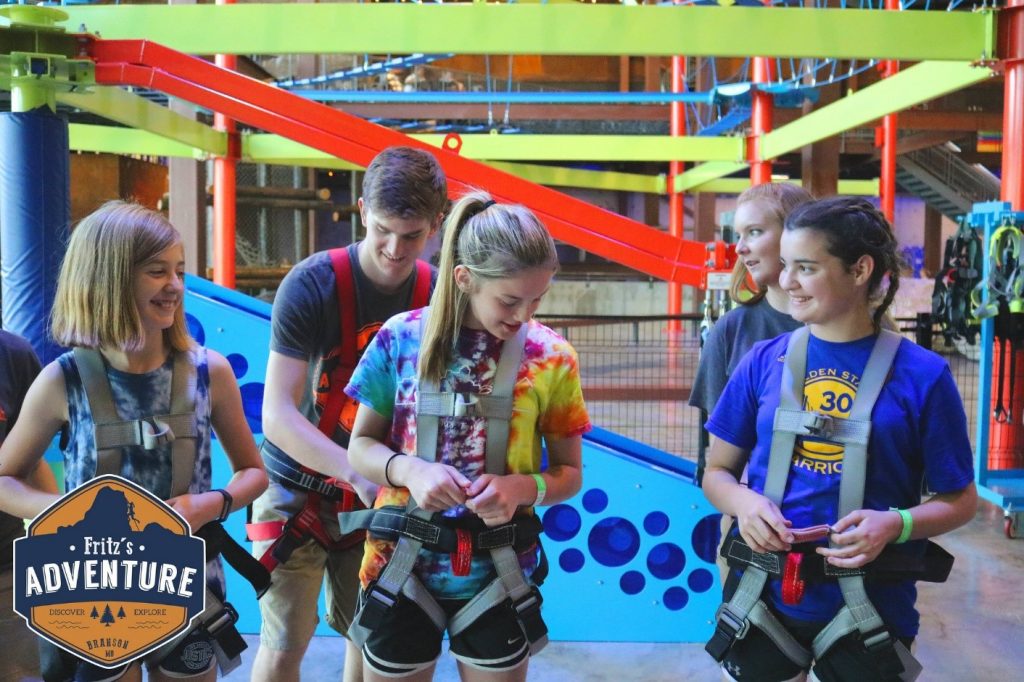 Photo Credit:https://www.flickr.com/photos/fritzsadventure/35892297031/in/album-72157683721163124/
Grab a tube and 'Whooo' your way down a 400 ft hill and then head back up for another go at the Snowflex® Tubing Hill!
Six tubes can go down the slope at once so groups, large or small, can enjoy tubing all year long!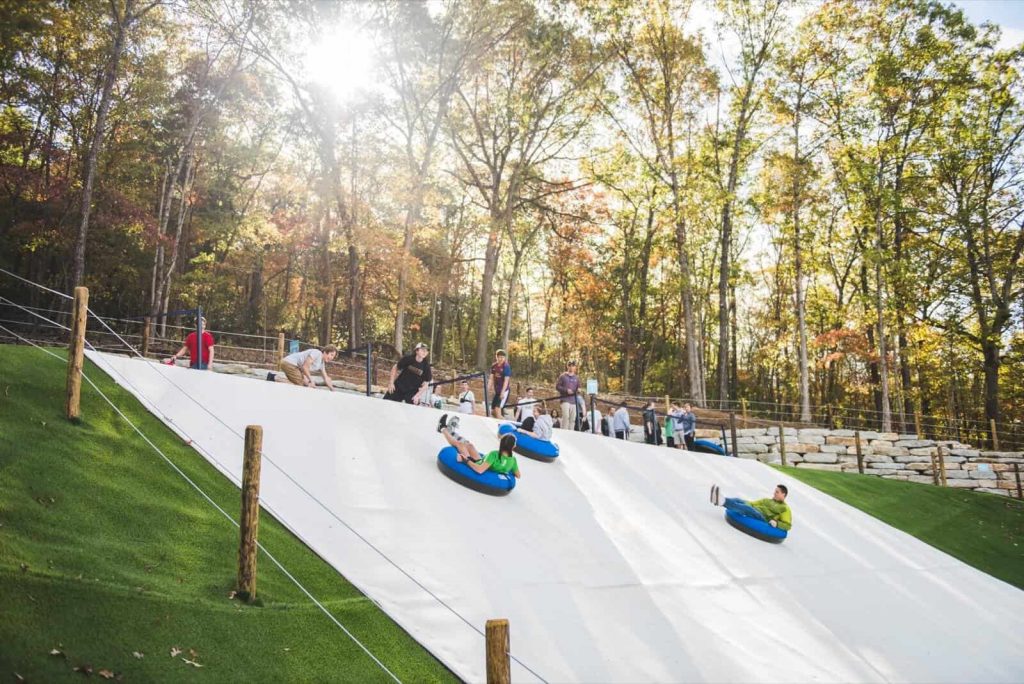 Photo Credit:https://ccb1frwwu3-flywheel.netdna-ssl.com/wp-content/uploads/2017/12/Wolfe-Mountain-Big-Group286.jpg
Get up close and personal with all of your favorite stars and icons and the selfie friendly Hollywood Wax Museum. Use the museums costumes and props and pose with your favorite figures. To name a few: Bruce Lee, Sandra Bullock, Samuel Jackson, Captain Jack Sparrow(Johnny Depp) and Robert Downey Junior. Learn all there is to know about your favorite stars with details like what pet they have and charity work.
Other Attractions:Castle of Chaos, Hannah Maze of Mirrors, Shoot for the Stars
Photo Credit:https://wp-cdn.milocloud.com/kuvera-hwe-wp/wp-content/uploads/2018/07/10001749/PHOTO_HWMB_HWMH_HWMPF_HWMMB_Michael-Jackson-With-Teen-Straight-On-Color-Corrected_HR_2017-05-02.jpg
Beat the heat during the hot summer months in the 500,000-gallon Surf's Up Wave Pool. Float your way down the Aloha River or bring the kids over to splash and play in Coconut Cove. If you're more for the high thrills and the adrenaline rush of the century, take the 70 degree, 40 foot plunge at KaPau Plummet or freefall drown the drop slides of Kalani Towers. Participate in Splash Into The Night Fridays and Saturdays July 3-August 8 before the summer season is up!
Photo Credit:https://www.silverdollarcity.com/-/media/Images/HFE/SDC_COM/NEW-SITE/WW-Imagery/White-Water-NW-Wavepool-Stars-625pxX391px.jpg?h=391&w=625&la=en&hash=D22D23DDDC31B7D42CB900D7D5EDFE1C
Discover the unique city of Branson on the Discover Branson History Tour complete with an experienced and entertaining local guide. Listen to the fun stories, hear the history and soak in the sights as you sit in a Mercedes Sprinter and drive by the scenic and historic hotspots of Branson, Missouri. Witness the breathtaking views of Table Rock Dam, hear the inspirational story behind College of the Ozarks( a college where students work for their tuition to graduate debt free) and continue through the historic downtown areas of Hollister and Branson, Missouri.
**All Tours Meet For Departure at The VIP Tours Office within Midtowne Plaza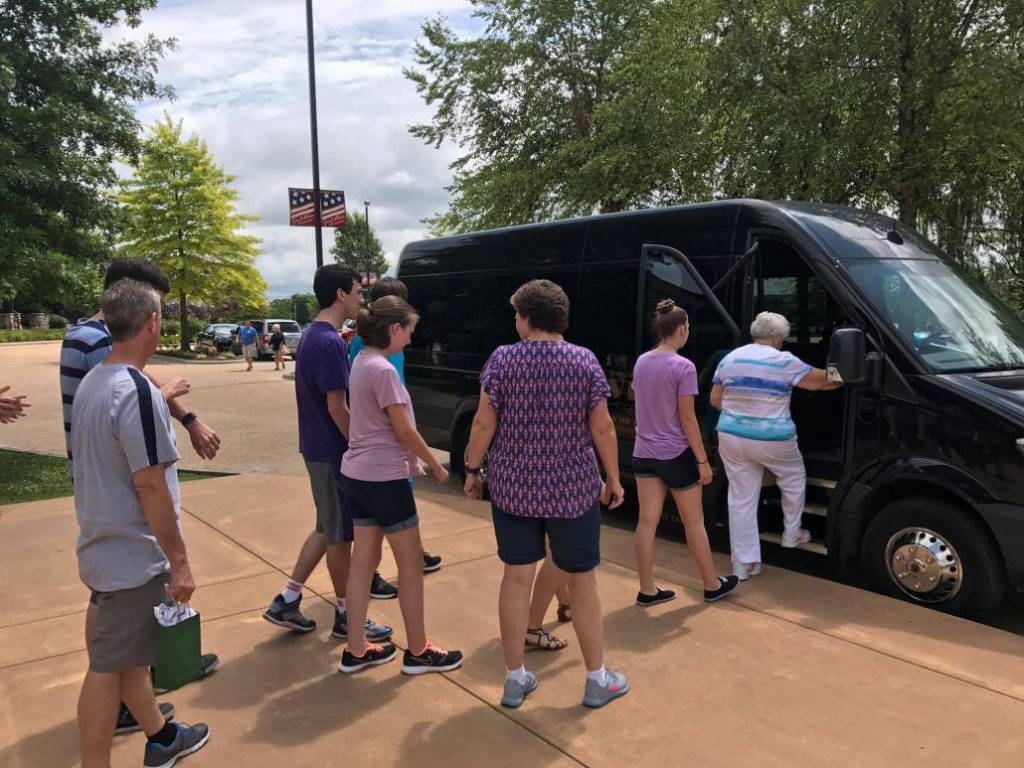 Photo Credit:https://i0.wp.com/viptoursofbranson.com/wp-content/uploads/2017/02/19749350_10212331027766789_266280503_o.jpg?fit=1030%2C773&ssl=1
Though Dogwood Canyon Nature Park is not located in Branson, we thought it was definitely worth a mention. Based in Lampe, Missouri, this beautiful nature park offers 10,000 acres worth of waterfalls, trees, caves, bridges, trout streams and even tree houses. Outdoor lovers will get their fill for nature at this unique and stunning park that's great for the vacation goers and local yocals out there!
Here's what you get with a Dogwood Canyon Single-Day Ticket: Access to The Dogwood Mill & Artifact Display, the Canyon Grill Restaurant, the Treehouse, the Nature & Conservation Center and the ½ mile Hickory Ridge Trail. Additional access to 6.5 miles of paved paths and 9 miles of trails.
Photo Credit:https://bransontravel.reservebranson.com/da/dogwood-canyon-park#return
Which one of these Branson, Missouri attractions are you ready to try out? Save money when you download the Branson Saver App on your phone and get exclusive deals and discounts right at your fingertips. Check out all the ways you can save here:https://dev.bransonsaver.com/branson-attraction-coupons-2/