If you're looking for the best Branson Cherry Berry coupons, you're in the right place!
CherryBerry Self-Serve Frozen Dessert Bar
CherryBerry Self-Serve Frozen Desserts offers SEVERAL yummy frozen Desserts in Branson! We have over 50 premium rotating healthy and succulent frozen yogurt flavors and more than 50 toppings. The beauty of CherryBerry is that clients have absolute control. Upon entering they just catch a cup and begin mixing. They could then visit the pub to bring any or all the toppings leaving nothing to be wanted. Toppings range from granola, cereals and vegetables that are fresh, to all types of candy, sprinkles, and even specialty items such as a variety of nuts. After customers have filled their cups, they still weigh their creation on a scale and add up the weight by the ounce. At CherryBerry, the possibilities are endless. Just swirl it, then top it, consider it, cover it. CherryBerry gives the fun to individuals by allowing them to make their own frozen yogurt.
Why is CherryBerry yogurt the best on the planet?
CherryBerry yogurt isn't made from powdered blend such as other frozen yogurt! It's possible to taste and see the difference and feel confident that CherryBerry is a higher-quality, much healthier yogurt.
CherryBerry is Live — Real Dairy Frozen Yogurt. It's four types of live active cultures to get a healthier digestive tract!
CherryBerry yogurt is obviously made from genuine ingredients (i.e. search and  you'll see strawberries in the Strawberry Sensations).
CherryBerry yogurt is homogenized and pasteurized, making it safer and much healthier! It is a much healthier substitute for ice cream, which is more fattening and doesn't have live active cultures.

Exclusive Branson Saver 
Cherry Berry
 Coupon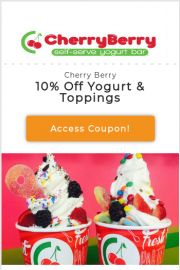 [dt_divider style="thick" /]
Advantages of Eating Frozen Yogurt
Assist to conquer Candida Syndrome
Assist digestion of milk protein
Help stop and fight digestive tract infections
Can Help in Cutting cholesterol
CherryBerry at Branson now has four new flavors that are not Only non fat dairy but Vegan too. The 'Coconut Milk' and is made with coconut milk Rather than cow's milk. It additionally has The probiotics that yogurt have. Soon to follow is that our following line up of flavors called Frozen Fruit. Tango(tangerine and Mango). CherryBerry!!!! Self Serve Frozen Dessert in it's Best.
Website : http://cherryberrybranson.com/
Hours:
Sun – Thurs: 1pm – 10:30pm,
Fri & Sat: 1pm – 11pm
Directions :