Looking for the best Branson, Missouri Restaurants around? That's easy! We've compiled a list of not just the best of the best , but the places locals can't get enough of!
Branson, of course, has hundreds of restaurants varying from romantic dining for two, fun pizza places for the kiddos, and/or the best BBQ this side of the Midwest. We've asked the locals what their top favorite Branson,Missouri restaurants are; this was their answer.
Without further ado, here are the best Branson, Missouri restaurants voted on by our very own local yokels!
Being one of the longest independently owned Branson, Missouri Restaurants, Starvin Marvin's continues a family legacy of hard work, good food, and true hospitality.
You might have seen their billboard on West Country Blv that brags 'Best Legs in Town' backed up by an enticing picture of water drippled crab legs underneath. Numerous happy customers have all agreed that Starvin Marvin's doesn't just offer great crab legs, they also offer great customer service, great buffets, great meal options, and a great atmosphere. You can check off Starvin Marvin's as Well Worth the Visit after you try one of their Po-Boys, Country Diners, or all-you-can-eat Seafood Buffets. Get half off your next buffet and share with friends/family with our Branson Savers Coupon here: https://coupon.bransonsaver.com/c/nyvhgx/806pqaof7mfzmcyyiy6my
Location: 3400 W Country Blv, Branson MO
Upscale eatery meets fine dining at this modern décor steakhouse in a refined and refreshing atmosphere—complete with valet parking. Celebrate Birthdays, Weddings, Anniversaries, or just a special night out in one of their two private dining rooms.  Have a seat and feel like royalty as you are offered a fine selection of Filet Mignon, Calamari, Braised Pork Osso Bucco, Ginger Glazed Salmon, Wagyu, and Prime Rib. Cut into your meal and choose 1 of 5 of their signature knives and start chopping away.
If it's a nice afternoon or evening, head outside to the Level 2 Bar, located right outside Level 2 Steakhouse on the 2nd floor concourse of the Hilton Branson Convention Center Hotel. Try a glass of hand-crafted champagne, specials on drinks and appetizers, or order from the full Level 2 Streakhouse Menu when you visit this Branson, Missouri Restaurant!
Location: 200 East Main Street, Branson, MO 65616
You can tell a lot about a Mexican cantina from their chips and salsa. Fortunately, Pancho Villa Tex-Mex does not disappoint as their complimentary chips y salsa is not only good; it's just the beginning.
Pancho Villa is a low-key cantina with a very colorful building, clean facilities, friendly staff, and both local and out-of-state fans who keep coming back for their GREAT prices! Get an entire plate of food with rice and beans for as low as $6.99!
Explore new dishes in the form of Pancho's house specialties or try one of their tasty quesadillas, fajitas or enchiladas. Beer and margaritas are also available at this superb Branson, Missouri Restaurant!
Location: 2819 W 76 Country Blvd, across from The Grand Village.
Try some culture comfort food and go to local favorite Thai Thais Cuisine; the only Thai restaurant in Branson, MO— and the only one you'll ever need.
Step through a set of glass doors and instantly feel comfortable and relaxed as you're surrounded by calming Asian style décor. The easy-to-read menus explain in detail which dishes are which and, on the bottom, a spice scale numbers 1-5; 1 being 'Not too bad', 3 being 'I think I can live with that', and 5 being 'Activate Face Melt off' mode.
Some local favorite items include their Chicken Satay, Spring Rolls, and the traditional Pad Thai.
Location: 1615 W 76 Country Blvd H-1 by Dolly Parton's Stampede Dinner Attraction.
If you have driven down MO 265, you might have noticed a quaint, country cabin with outdoor rocking chairs and parked cars in every available space. That would be Billy Gail's Café.
Flat Creek, another great restaurant in Cape Fair & Republic, MO is the recent new owners of this fan-favorite café and officially re-opened in February 2020 with a few changes.
The savory menu will stay the same with the same breakfast plates—like omelets, stuffed French toast, and pancakes as big as your plate— are available to order all day. Lunch is also the same with a few additives such as the catfish dish. Billy Gail's is now accepting credit/debit card, is open until 3PM, has expanded their parking lot, and certainly worth a look.
Location: 5291 State Highway 265
Don't let the hidden location of this stellar BBQ joint keep you away. Situated at the back of the Branson Craft Mall, the unique Picking Porch Grill bears itself proudly with a hut-style order area, a wooden stage for live, weekly performances, and a barn themed décor that emits a folksy, country atmosphere.
This grill comes highly recommended for their fish tacos, pulled pork sandwiches, Bluegrass burgers, chicken salads, and onion ring appetizers—be ready to chow down & cross off another on your list of local favorites for Branson, Missouri Restaurants!
Location: 694 Highway 165
This rarity is special not just because it's the first of its kind, it's because it stems from the best of American food and leisure. The Black Oak Grill, located at the Belk end of the Branson Landing, presents high class comfort food in a modernistic country style restaurant where you can come dressed to impress or in your flannel and jeans. Dine indoors or go outside to enjoy the view of the lake from their enclosed patio space.
Another great thing about this place is they support local products and businesses in the Ozark area. Some select meats are purchased from Harter House in Hollister, MO, the carrot cake is from Sugar Leaf Café in Branson, and some of the bread is all the way from Neighbor's Mill in Harrison, Arkansas.
Come thirsty & come hungry!
Location: 601 Branson Landing Blvd #2089
Step back in time at this retro diner and try a classic hot dog, hamburger, an order of French fries or a milkshake. This colorful business recently changed locations but the love for this place has remained the same. With more indoor seating, meal prices under $8, and an average 4 to 5 star rating, this timeless restaurant is a great place for all to enjoy.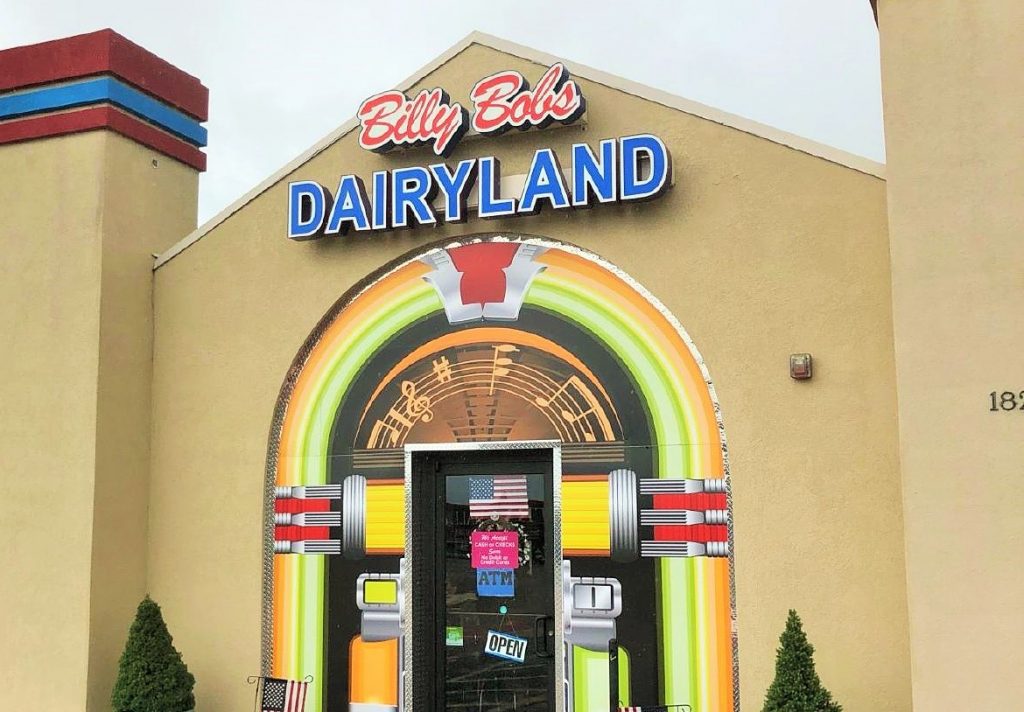 Location: 1829 W 76 Country Blvd
A refined, artisan styled café nestled in the charming Grand Village Shops area, Sugar Leaf Bakery & Café is just that with bakery cakes, cookies and pies and a café with specialty made coffees, teas and sandwiches.
Special occasions like Weddings and Birthdays can be celebrated with custom build train station cakes or decorated cupcakes. Dine-in and choose from a  variety of breakfast items, panini & café sandwiches, soups n' sides, desserts, a kids menu and many other specialty items. Catering is also available.
Location: 2800 W 76 Country Blvd, Suite 211
A regular go-to for families, kids, and really anyone with a bottomless pit for a stomach, Papa Grand's Pizza is another local favorite. Located inside Grand Country Resort, Papa Grand's Pizza has an all-you-can-eat pizza buffet with over ten different selections of pizza, salad bars bursting with greens, and a play area for the kiddos. For a great value, you can get hot, fresh specialty pizzas, dessert pizza or one of their vegetarian or gluten free pizzas. You can even buy one lunch buffet and get one half-price with this Branson Saver coupon: https://dev.bransonsaver.com/branson-papa-grands-pizza-coupons/
Location: 1945 W 76 Country Blvd
Minutes away from the Branson Landing, Dimitri's Greek Gyros & Deli celebrates culture-comfort food at its finest. Get your GREEK on and browse through a menu of traditional, vegetarian, and chicken gyros, pastrami, corned beef, stuffed grape leaf Dolmades, Spanakopita and feta cheese/ Kalamata olives. They also have fabulous ice-cream, traditional baklava, and cannoli's for dessert.
We highly recommend dining in as you get the full experience of the restaurant's vaulted ceilings, the pictures of Greece, and the pleasant family behind it all.
Location: 111 E Main St, Branson, in Historic Downtown
Also conveniently located near the Branson Landing, locals love, love, love this Japanese restaurant & bar for their fresh sushi, steaks and noodle bowls. For a lunch or dinner box, you can get a pleasing amount of sushi, crab rangoons, edamame, rice, ginger salad and miso soup for a fair price
MoMo's also offers special deals on their beer, wine, appetizers, hot sake and sushi rolls during Happy Hour Sunday-Thursday 3-5 PM.
Location: 120 N Sycamore St STE 100
From the #1 voted Pastrami Reuben Sandwiches in the area, to the 5 star google reviews and the ever-present fun atmosphere, Scooter's Grill truly furnishes the ideal eating-out experience.
Some local favorites are the "Dragon Eggs" a bacon wrapped Jalapeno & cheese appetizer, the Bacon Ranch and Cream Cheese Burger and the perfectamundo Reuben sandwiches. The grill is located within Greatest Adventures of Mini-Golf and is open for dine-in, carry out and curbside pick-up. Undoubtedly, one of the many wonderful Branson, Missouri Restaurants you should visit!
Location: 4800 North, Gretna Rd
'From Farm to Table' the Dobyn's Dining Room—located inside the Keeter Center— offers a selection of fresh items made and grown right on campus by college students.
College of the Ozark Students work off their college tuition and room & board when they work 15 hours weekly at the many workstations on campus including the Keeter Center & Dobyn's Dining Room.
Locals recommend the Chicken Fried Chicken, the Southern-Style Samon, and their complimentary biscuits and/or rolls served at lunch and dinner. Try Dobyn's Dining Room for Sunday brunch where hot entrees, side dishes, salad & cold cuisine, carved meat, breakfast selections, made-to-order waffles and omelets, and a wide variety of desserts line up every table.
The Keeter Center is located on campus of College of the Ozarks where students work for their tuition.
The Keeter Center is temporarily closed. When opened, make sure to make a reservation.
Location: 1 Opportunity Ave, Point Lookout, MO off Bus 165
Do you like authentic Mexican food? Then you're probably going to want to order the entirety of the Aranda's Tacos menu. Just a taste of what they offer includes tacos, chimichangas, burritos, quesadillas, fajitas, taco salads, tamales, a salsa bar, and flan for dessert. If you're in the mood for flavor, for food with a kick, for the whole enchilada, this is definitely the place to go.
Location: 2410 W 76 Country Blvd A
Last on the top local favorite restaurants in Branson, MO—and certainly not least—is a wonderful restaurant that sits right next to Fall Creek in Branson, Missouri.
Fall Creek Steak & Catfish House is an American comfort food eating place and 'Home of the Tossed Roll'. This place will keep you on your toes as you're enveloped by live music, signs like 'Route 66' and 'Railroad Crossing' on every available space on the wall, and the occasional chucking of a roll. Locals love their specialized fried fish and BBQ options.
Location: 997 MO-165
What do Check out https://dev.bransonsaver.com/branson-dining-coupons/ or download the Branson Saver App on your Smartphone to see all the ways you can start saving money on your next dining experience!
COVID-19 Update: Due to the current global pandemic and in accordance with local regulations, eateries in this area are under restrictions and may not be open for dine-in services.
Photo Credit:
Level 2 Steakhouse: http://www.level2steakhouse.com/images/photos/Clear_Bar.jpg
Starvin Marvins: https://scontent-ort2-2.xx.fbcdn.net/v/t1.0-9/80045357_2937899096234376_4591684067967107072_o.jpg?_nc_cat=103&_nc_sid=110474&_nc_oc=AQlScJYuAo1GcFdGeloGL4oxi788DxOKRKX8izCkYYWlL3T16qi23IiECT-TtZbMCqo&_nc_ht=scontent-ort2-2.xx&oh=697d8bf28545
Pickin Porch Grill: http://www.bransoncraftmall.com/wp-content/uploads/2018/03/BURGER-3-800×480.jpg
Billy Bob's Dairy Land: https://10619-2.s.cdn12.com/rests/original/403_503269017.jpg
Sugar Leaf Café: https://scontent-ort2-2.xx.fbcdn.net/v/t1.0-9/94072522_10151323286434980_7058712548350099456_n.jpg?_nc_cat=105&_nc_sid=110474&_nc_oc=AQnMH2hRC2Bp-uLhb43797-Kz1-GF27g0W8tYCMuUg7v02KG7Yn7H9uBwrXhS0tOEPM&_nc_ht=scontent-ort2-2.xx&oh=57052ca7f0d
Dimitri's Greek Gryros & Deli: https://scontent-ort2-2.xx.fbcdn.net/v/t1.0-9/98003396_1709707149167354_841673617031823360_n.jpg?_nc_cat=106&_nc_sid=110474&_nc_oc=AQl-8OPXBWUGR_HQ50t3QvBTgwzqg6gUTlZVm7__X04LQ8rxjvArpK4dsPnpey64Jd0&_nc_ht=scontent-ort2-2.xx&oh=05684c7fed90d
Scooter's Grill: https://scontent-ort2-1.xx.fbcdn.net/v/t1.0-9/p960x960/60703280_1944323309006468_486331662460780544_o.jpg?_nc_cat=107&_nc_sid=2d5d41&_nc_oc=AQkabP96FIRrWSTUvKMw2mWW1BCvBd3iXIoAf5WfNhouPXWsQnKdUGNSguf4LAx4G6Y&_nc_ht=scontent-ort2-1.xx&_nc_tp=
Fall Creek Steak & Catfish House: https://scontent-ort2-1.xx.fbcdn.net/v/t1.0-9/101840055_2948398891896364_4540029475550658560_o.jpg?_nc_cat=109&_nc_sid=8024bb&_nc_oc=AQmTxWmFJ0bhNfLqEw4gmgQ_8zDjVuIRDQnphVVzEBudcX2q5k-mtn-afglHzCjvx6Y&_nc_ht=scontent-ort2-1.xx&oh=7e5d088811
Aranda's Tacos: https://scontent-ort2-1.xx.fbcdn.net/v/t1.0-9/59846367_1977617229014580_38339369165127680_n.jpg?_nc_cat=102&_nc_sid=110474&_nc_oc=AQnUxZnJ8zEW7WbxmbY_d8Xl6Czul-3UojjmwSM9YYmG5Z30Ap1dCf0uNpZIWkZWEwU&_nc_ht=scontent-ort2-1.xx&oh=ce82ae8b82515a
Feature Photo Credit:Jeremy Mason McGraw ELITE INT PHOTO
All other photos: https://www.flickr.com/