If you're looking for the best Branson Ozark Mountain Pizza coupons, you're in the right place!
At Ozark Mountain Pizza You can enjoy the best Italian food Branson. The pasta and pizza are second to none. If you do not believe that, trust your own stomach. Once you get a taste of the delicious cuisine, pizza cravings won't ever be the same.
If you're looking for a quiet night in, or just need something great to eat, Contact us now and we can arrange delivery of your pasta and pizza dish quickly and easily. You could also mix and match, depending on your appetite, by including garlic bread or a salad in your order.
A great mix of our favorite foods your favorite foods. Ozark Mountain Pizza of Branson West focuses primarily on mouth-watering pizza and pasta dishes. The menu is sure to excite every taste bud. And if they do not have what you want, they'll make a personalized pizza made from our fine, fresh ingredients.
Ozark Mountain Pizza's menu is as varied and exciting as All of Italy! Along with pizza and pasta, we have a delicious assortment of fresh salads, sandwiches and meat specials that leave you smiling long after you've left. You'll soon see why so many people and Branson-based companies have selected them as their choice for dinner or lunch.
The pizza shop that's the talk of town
In the pizza restaurant, you'll find a complete selection of Italian favorites, including pizza, pasta, fresh salads and sandwiches.
With fresh ingredients, traditional recipes, Ozark Mountain Pizza is a superior pizzeria. Pick from traditional pizza dishes or from our exclusive gourmet menu. With a selection of deals to choose from, you can use a coupon to feed the whole family.
If You're Looking for somewhere to feed the Entire family in Branson West, come back and see the team at Ozark Mountain Pizza. The restaurant has a large and varied Italian menu. They focus on:
• Authentic pizza
• Italian pastas, salads and sandwiches
• Casual family setting
• Dine in and take out choices
• Quick customer service
Ozark Mountain Pizza was created in 2012 and in 2016 was Bought by Jamie Cabano. When asked why Ozark Mountain Pizza? She reacted with a grin, "I have always wanted to own a pizza restaurant as who does not love pizza? I was looking for a hole in the walls, mom & pops area and I discovered it. Finest pizza around!"
Our large and varied menu means there is something for everyone. We create sandwiches in all types and tastes. And if you're not in the mood for pizza, we also have a large selection of sandwiches and cakes to choose from. Our quick shipping service will deliver your food, piping warm, directly to your door. In Ozark Mountain Pizza, no one will leave without having had a remarkable meal.
Whether you are leasing a corporate party or want to refuel Serving customers in the Branson West, MO, region, this pizza shop not only supplies a broad assortment of delicious possibilities, they also produce the ordering process as easy as possible. Keep reading to find out why you will want this pizzeria near the top of your food choices.

Exclusive Branson Saver 
Ozark Mountain Pizza
 Coupon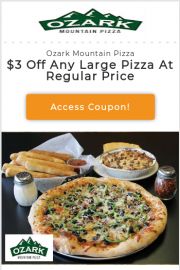 [dt_divider style="thick" /]
Fresh–But Fast
Having some of the freshest food from the Branson West area. As a local business, this pizzeria takes pride in utilizing a vast array of fresh toppings and ingredients which consistently bring the perfect amount of flavor.
Healthy Choices
When you're ordering meals for a business occasion or personnel Meal, it can be tough to discover a restaurant which not only provides but also satisfies the nutritional requirements of each person in your staff. But when you purchase from Ozark Mountain Pizza, you do not need to worry about satisfying everyone.
Over Pizza
Does your staff have a preference for dishes aside from pizza? No Issue! Ozark Mountain Pizza offers an extraordinary selection of delicious made-to-order dishes which could add variety to your own office meal. As an instance, you can purchase classic Italian pasta dishes, including custom made sub sandwiches, hearty salads, breadsticks, and even wings. You do not have to be concerned about dessert–this restaurant provides a variety of satisfying sweets, such as their Apple and Bavarian Dessert Pizzas.
Open late
If your business wants food delivery Beyond company This pizza delivery agency is open each day of this week before 11 p.m., which makes it effortless to arrange a meal for a workplace dinner party or late night job crunch.
In addition to high quality meals, Ozark Mountain Pizza Strives to continue to keep their prices low so you are able to keep your enterprise budget in check. In reality, they provide several specials during the week to help you to save money on your food delivery order.
One other pizza buff knows the appropriate topping Mix can make or break a pie. Although some favor sticking with their tried-and-true favorites, like classic pepperoni and sausage, then it can be daring to break from your same slice routine.
Keep Reading for some unique pizza recommendations:
Bacon Cheeseburger: Some nights, then you can't decide if you are more in the mood for a burger or a pizza–you no longer need to pick! Try a piece spread with mustard sauce and topped with beef, onions, bacon, cheddar cheese, and pickles.
Taco Tuesday: The next day of this week should not just be reserved for Mexican foods. Sizzling slices are piled high with chicken, green peppers, onions, salsa, and cheddar cheese for a supper you won't forget.
Chicken Alfredo: Sometimes you simply need a bowl of creamy and hot pasta, but don't wish to deal with the fork.
BLT Pizza: Try a spin with this country club classic with a BLT pizza which features crispy bacon, lettuce, and tomato with a spoonful of mayonnaise. You'll feel as though you're landing a hole-in-one with this unique pie.
If these topping combinations have your mouth watering, then come This restaurant's tasty pies are prepared using Authentic Italian recipes as well as the best ingredients. Their menu is Well-loved in the area because of its innovative specialty pizzas, crisp salads, rich Soups, also filling sandwiches. Use a coupon and head on line to View their menu and pizza and pasta options.
Website : http://www.ozarkmtpizza.com/
Hours :
Sun – Thurs 11:00 AM – 9:00 PM
Fri – Sat 11:00 AM – 10:00 AM
Directions :