If you're looking for the best Branson Casa Fuentes coupons, you're in the right place!
Casa Fuentes was established in Mexico city in 1920 by Manuel Fuentes Martinez Due to his vast understanding of international cuisine, he applied exquisite and varied techniques to Mexican Food. Don Manuelito, as all of his friends called him, had worked as a head chef in hotels and restaurants in New York City, Chicago, Dallas and Galveston for over twenty years. Now the torch is being carried on by his son, Manuel Fuentes Rodriguez, who has taken the traditional Mexican recipes and accommodated them to the American palette.
As you make your way about Mexico, you'll find how important and unique the house style cooking is. Everything is completely natural and flavorful, rich in taste, along with spices which have a serious kick. Mexican food has stood the test of time. Here in Branson, folks such as yourself who understand the exquisite flavor of Mexican foods, will give Casa Fuentes approval because of its cleanliness, great taste and exquisite food quality.

Exclusive Branson Saver Casa Fuentes
 Coupon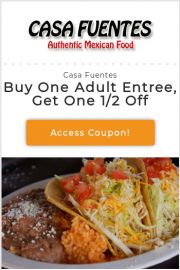 [dt_divider style="thick" /]
Here's what people are saying:
"This place is wonderful. I was on vacation in Branson and thought I'd try it. The chips and salsa were spot on."
"Some of the best Mexican food in Branson, without a doubt. I Tried the spicy shrimp enchilada, and it was superb. Will definitely be going back. If you're in town and enjoy Mexican food, then you gotta check out this place. You won't regret it."
"Every time we take a visit to Branson, we come here!! This place is pretty cozy. The food is great and the wait staff is fast and friendly. They have many options in their menu. My favorite thing is the Chipotle Shrimp Tacos!! I adore this place and will always visit when I'm in town! The massive cheese dip is enormous, really. Chips and salsa are to die for. I definitely suggest going!"
"Whatever we order, it's good, every time, with hearty portions. Chips and salsa are included. Obligatory rice and beans are included on most plates. Family owned, serving food in this little restaurant for decades."
"Little Restaurant but has some great menu options and the food is wonderful. Chips and salsa is amazing along with the fajitas did not disappoint. Great option for Mexican Food. We shared the fajitas and left stuffed. The service was top notch and personable during the dining experience."
"We were greeted with a cheerful server. Friendly and prompt. He served scrumptious chips and salsa straight away. We all had a Margarita, each was enormous and delicious. The food met our expectations. Quite good. We will surely eat here again next time we're in Branson. This is a nice and friendly restaurant."
Website : http://www.casafuentes.com/
Hours :
Monday – Thursday   11am to 9pm
Friday – Saturday      11am to 10pm
Sunday               11am to 8pm
Directions :